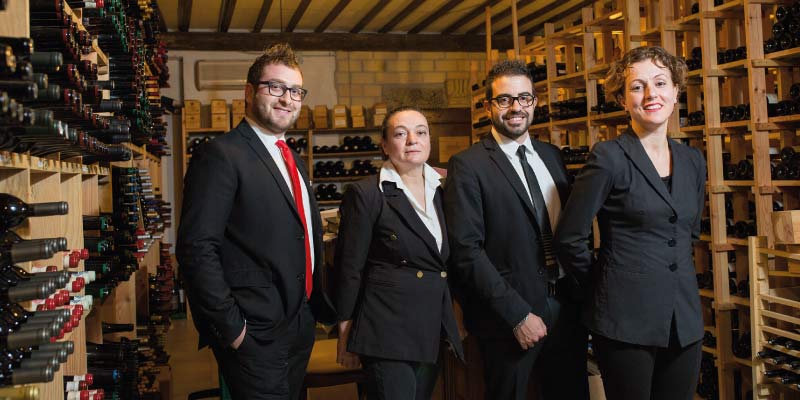 Vegetarian or fish menu and a wine cellar with more than one thousand five hundred wines.
Two rooms tastefully furnished with antiques and a large fireplace, L'Enoteca is a quiet, intimate and refined space that welcomes you in a warm embrace. It is the emblem of the culinary philosophy of Le Case, where the food is the star of a truly sensory journey.
It starts in the countryside …
Close your eyes and lose yourself walking among the rolling hills, this is where we collect the herbs that enrich our menus with colours, scents and flavours. Wild herbs 'erbe trovate' in Macerata dialect, are the heart of our cuisine, virtuous and healthy, they bring out memories of authentic taste in every dish.
The vegetarian menu will win over the most demanding palates, because with every dish we serve a philosophy of a sustainable supply chain and quality, which focuses on organic vegetables and fruits from the family farm. All seasoned with our own extra virgin single variety olive oil.
Getting to the sea …
Fish could not be left off the Enoteca menu, because the Adriatic is very close and traditional seafaring cuisine is an essential component of the local identity. Large fish, oily fish or caught by hook, we choose at the local fish market so you can taste the best fish from the coast.
And in the kitchen an entire Chef Brigade will surprise you with original, authentic dishes, prepared with only the freshest seasonal ingredients.
Finally the wine. You can choose from the more than one thousand five hundred labels that we have in the cellar and be guided by our sommelier who can suggest the perfect pairing of food and wine.
OPEN ONLY FOR DINNER
Wednesday, Thursday,
Friday and Saturday
from 20:00 to 22:30
Closed Sunday, Monday and Tuesday
* * *
INFORMATION AND RESERVATIONS
T. 0733 231897
T. 0733 264762

Contrada Mozzavinci 16/17
62100 Macerata
Italy
info@ristorantelecase.it
T. +39 0733 231897
T. +39 0733 264762
VAT IT01203640436
Subscribe to our newsletter